Business Brokering for Professionals
Learn How to Value and SUCCESSFULLY Sell Small and Middle Market Businesses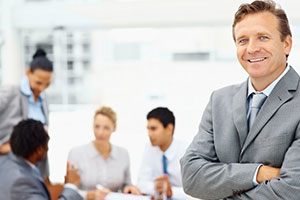 Do you think you'd like to be in the executive business of selling businesses – of helping business owners of all types realize their ultimate dream; make the ultimate business transaction?
If you think this exciting, lucrative and highly respectable profession might be right for you, we can teach you how to value and successfully sell small and middle market businesses – those with transaction values of between US$250,000 and US$25 million.
And we can do it in as little as 30 days.
The world is entering into uncharted territory in that unprecedented numbers of business owners will be selling their business between now and 2035. Why? Because Baby Boomers are starting to retire.
And this Baby Boomer business sell-off – the so-called "Silver Tsunami" – is just getting started.
Exhibit A: The Baby Boomer generation is starting to hit retirement age at a rate of 10,000 people a day in the United States alone.
Exhibit B: According to the U.S. Small Business Administration, more than 50% of small businesses – nearly 15 million – are owned by people over 50 years old.
Exhibit C:       UBS, the Swiss investment bank, issued a report that included the results of a survey of business owners. It's conclusion? More than 40% of business owners plan to exit their business in the next decade.
Baby Boomers are Heading for the Exits
In your city right now there are hundreds of businesses for sale and many more business owners thinking about selling. Not one of them knows how to do it.
Not one of them knows what their business is worth. Not one of them knows how to get their business ready for sale. Not one of them knows how to market their business. Not one of them knows how to negotiate with a buyer.
But every one of them needs someone who knows how to do these things. They need a knowledgeable professional to make their dreams a reality.
The How, The Why and The Who
Though there are many differences – some of them significant – selling businessses is similar to selling real estate. A business broker values, markets and sells businesses rather than houses. The paydays, though, are much better – because businesses generally sell for FAR more than houses do! A six-figure income can be accomplished with only one deal per year.
Knowing how to value and sell businesses is a business in and of itself. In fact, that's how Worldwide Business Brokers got started back in 2001 – and how most of our brokers and trainees work today. But having this knowledge is a tremendous way to increase revenue for other professionals.
For example, if you're a real estate agent, business consultant, accountant, financial planner, attorney, private lender or any other similar professional, business brokering fits neatly into your existing practice. If you're working with business owners on any level, you already have an existing client base.
Adding business brokering knowledge to your existing practice has the potential to supercharge your revenue

Many business owners, especially those that own small businesses, don't have any idea who to turn to when it comes time to sell. Every one of them needs someone that knows how to value their business and to find a buyer – whether that buyer is an individual, a couple of partners or a larger business seeking a strategic acquisition.
If you'd like to know what a business broker does, check out this blog post for some details. If you'd like to learn more about becoming a professional business broker, start the conversation here. In the meantime, listen to our founder discuss the executive business of selling businesses by clicking on the nearby link with his smiling mug.
Finally, if you're ready to get started, our flagship course, Learn How to Value and SUCCESSFULLY Sell Businesses, is for you. Get the details by filling in the form above and click "Send Me The Course Outline". It'll be sent to you immediately.
The "Silver Tsunami" is a once-in-a-generation economic shift that is just beginning to impact millions of business owners. There simply is nowhere near enough knowledgeable professionals to handle this coming wave. We can help you become one.